CHOOSING YOUR FIRST DANCE SONG
Choosing a first dance dance for your big day is unique for every couple. For some, it can be easy, as it's a case of "that's our song" and the job is done.
For others, it's more complicated and sometimes even stressful. You may have met in a bar, online, introduced by friends, or so much more, and a song relevant to the occasion may not jump to mind so easily. "You're not the boss of me" from Malcolm in the Middle may or may not suit the occasion!! There's also the case where you simply don't have the same tastes in music, you could love Motown, or your fiancé could love Mozart. You could love Rihanna whereas your fiancé could be a rocker. There's also the prospect that either, or both of you may feel self conscious in front of a full room, or indeed you're just not a dancer. All of these are very valid concerns and points to ponder ahead of your moment in the limelight.
The most important thing to remember, is that your first dance is about you both enjoying yourselves and simply having the best day of your life.

Where to start

.
Some first dance songs will have a sentimental meaning. It could be the song from when you first met each other, or your first date, the night you got engaged and so on.
Some couples choose a song that is relevant to an occasion in their lives. A holiday, a trip to a festival, buying a house. There are many to choose from.
Other ideas include choosing a first dance in keeping with the vibe of the wedding- for example if you're a traditional/vintage style lover, then a rat Pack or Crooner style song could suit. If you're more non conventional, then maybe something "Summery" if having an outdoor wedding, or indeed something more upbeat and modern, or a song that simply makes you smile
If you're a die hard, old school romantic, then a song that has love and romance at its core could be for you. The kind that gets all the soft hearted people reaching for a tissue for their tears of joy.
Or indeed you may just have an artist or band that you both love, and simply pick a song that you both enjoy from them. Above all its about having fun on the day.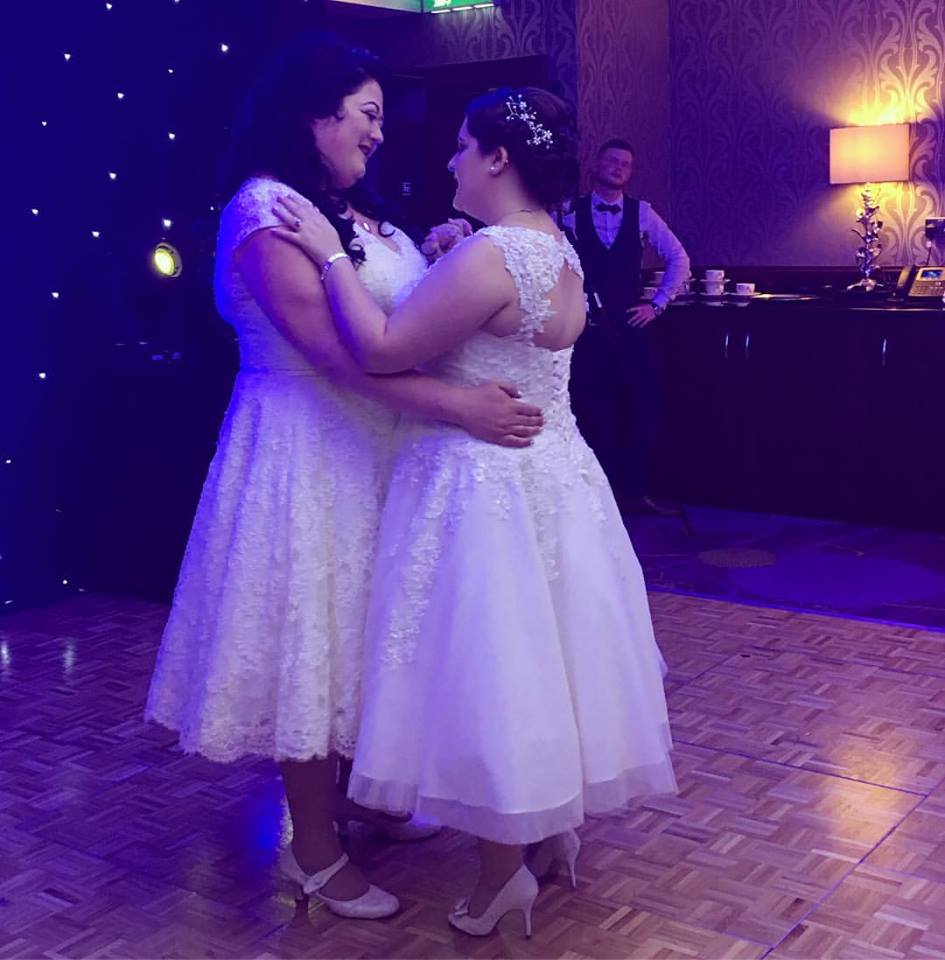 Your wedding band and your first dance song
Traditionally your wedding band will play your first dance song live. At Groove Machine Band, we always strive to give the best live performance of a song, to suit the big occasion for the happy couple. It is worth also bearing in mind, if picking a particular song, what kind of band you have. For example, if you've gone for a Rat Pack style big band, then asking them to play a rock song may not fit the vibe. Or indeed if you had an 80's tribute act, asking for Nat King Cole's Unforgettable, may not suit the sounds.
Most wedding bands will have the more popular first dance songs in their repertoire, however it's important to liaise with them well in advance to make sure, particularly if it's a song they don't perform regularly, that they have ample time to rehearse and prepare the best performance for your wedding day. Also, some couples have a special attachment to the original version of the song, and if this is important to you, then by all means ask your wedding band to play the original over their PA system. It's about your big day and what you want the most. The beauty of a band performing it live adds a very personal touch to the occasion however. Definitely some points to consider.


Important tips
You don't have to absolutely adore your first dance song. It doesn't absolutely have to be the "chosen one". If it's something that makes you all smile and you enjoy it, then that's totally fine.
It doesn't have to be a choice that has to be labelled as "your song" . A lot of couples don't have a song that they class as "theirs", so don't feel the added pressure of that expectation.
It doesn't have to necessarily be a slow number. If you are a raver, twerker, head banger or simply a shuffle and sway person, well then go for it, Its YOUR choice!
The first dance is a long standing tradition at weddings. Some people simply don't like the limelight and aren't totally comfortable being out on the floor under the gaze of their guests. Don't stress at this. Call your guests to join you as soon or as late as you wish. Talk to your wedding band in advance and tell them you want people with you on the dance floor, they'll help invite people to dance with you. Not everyone likes dancing, not everyone is a natural dancer, but at the end of the day, people are delighted to see the happy couple dancing together, no matter what way they move, so again, don't panic over this one. Sway, shuffle, jump, whatever makes you enjoy your big day.
So now you're armed with a few tips, hopefully helpful, have fun picking your first dance. Trawl through Spotify and You Tube, or old CD collections, above all have fun! We will follow on from this post with a Blog on popular first dance choices and indeed some of the more obscure, entertaining and funny ones we've encountered.
Until next time..... Happy Wedding Planning!