Welcome to our weekly Blog and this week we are featuring our rhythm guitarist and male vocalist, Lenny!
In this we will take a brief look back at Lenny's musical past and his journey to being a member of Vintage Vibes Band.

FAMILY INFLUENCE
Lenny came from a family with a strong musical background, with his father and several uncles all hailing from a traditional Irish music past. Lenny's father Pat, was the concertina and tin whistle player in the McKenna Folk, along with two uncles Ted (Mandolin and vocals) and Gordon (Guitar and vocals), throughout the 60's and early 70's, so music was always in the household from an early age.
Lenny began with the age old recorder lessons in school, before progressing, under his father's teaching, to the Tin whistle. However the draw of other musical influences pulled him towards guitar and at the end of the 80's he bought his first acoustic guitar and began to learn how to play. At first it was to accompany family members at home, again in mainly traditional Irish music, but then he began to branch out.

As with many young guys and a guitar, his first love was rock, and he quickly developed a love for the big acts of the time, Thin Lizzy, Iron Maiden, Black Sabbath and some a little more obscure like Saxon and Whitesnake.

In the late 80's and early 90's he cut his teeth playing music with family members, as a session player in some of Dublin's bars and as far afield as Santa Ponsa, and soon he formed his first covers band. It was a band without a name, as it was put together solely for a series of Christmas parties for a company he worked for at the time. But he was hooked, and along with a drummer (Shane McCormack) that he'd been introduced to, they formed a four piece band in mid 1994.
Along with Alan White on lead guitar and Eoin Brennan on bass, with Lenny fronting the band and on rhythm, they became (following several name changes) "The Lounge Lizards"



L-R Shane (Drums), Alan (Lead), Lenny (Rhythm and Vocals), Eoin (Bass)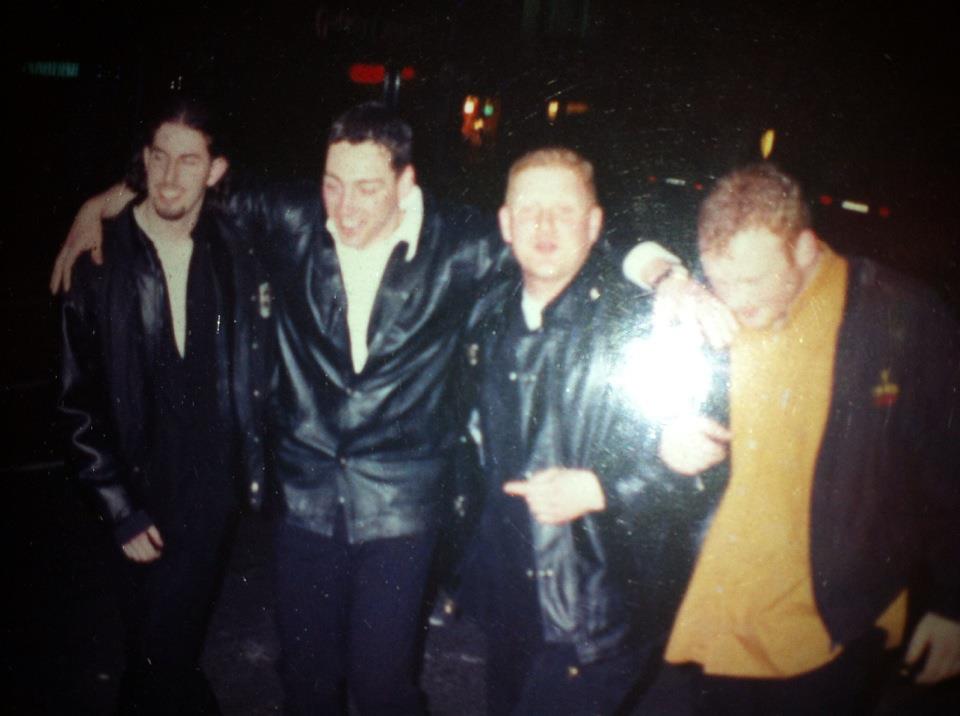 What followed was nearly 8 years of non stop gigging, covering classic rock and a mix of modern influences at the time. Everything from Oasis, U2, Lenny Kravitz, Radiohead and many more. On the Irish circuit they picked up a big following, and all in pre social media days! Each gig would end with the phrase "You've been Licked by the Lizards!", with T-shirts to boot, with the same, for sale at gigs!

The Gig Guide Tallaght Echo Feb 1996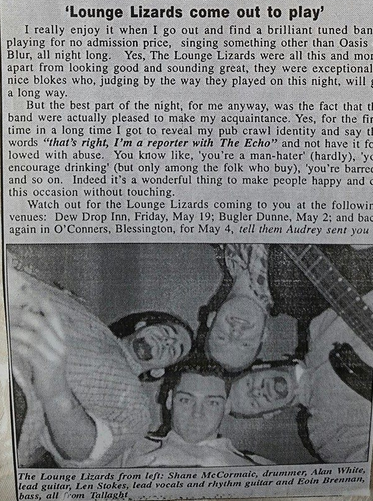 As with many bands, as time went on, The Lounge Lizards went their separate ways, but the lads have all remained lifelong friends and even had a reunion in 2020, pre lockdown and have recorded some home recordings together during lockdown. Shane now teaches drums to Lenny's son (also Shane!!)

Lenny went back to gigging at session work, but soon had the calling again to get back out with a band, and in late 2005, he set about forming an 80's rock and pop tribute act. This time round he wanted a female front vocalist and with him as the second singer. After auditioning several musicians an initial line up went out as a band called The Reasons, however due to commitment difficulties, they parted ways with their guitarist and front woman in late 2006.

In January and February 2007, Lenny met 2 people who would become part of his musical and personal future forever. Relaunching as "The Spectrums" Lenny welcomed Farid Basir on lead guitar, and Aoife Mc Namara on lead vocals. (Some familiar names there!!) With John Byrne on drums and John Cassidy on bass, later replaced by Terry O'Neill , The Spectrums took to the pub and wedding circuit throughout Ireland, complete, with 80's wardrobe, each member taking a different genre from the decade and dressed accordingly. Lenny went for the glam rock vibe of his teen influences!!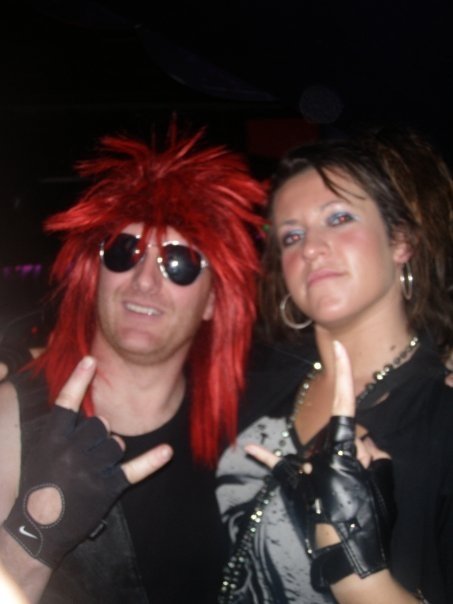 As the 2000's pushed on and headed into the teens, The Spectrums pushed more towards the wedding and corporate market and began to push further afield, even as far as Jordan in the Middle East, as hosts of British Midland, for a gala ball for Irish ex-pats, and attended by the Jordanian Royal Family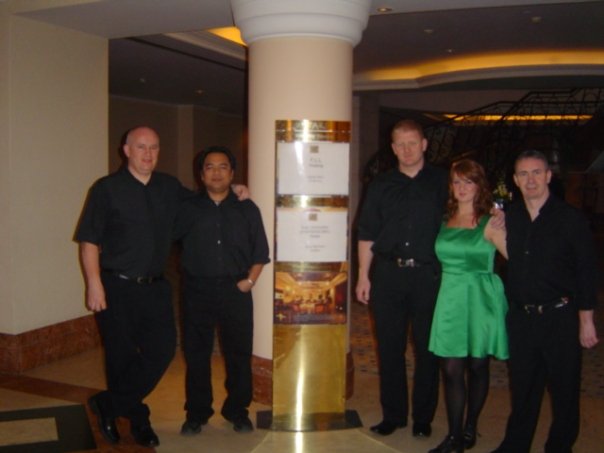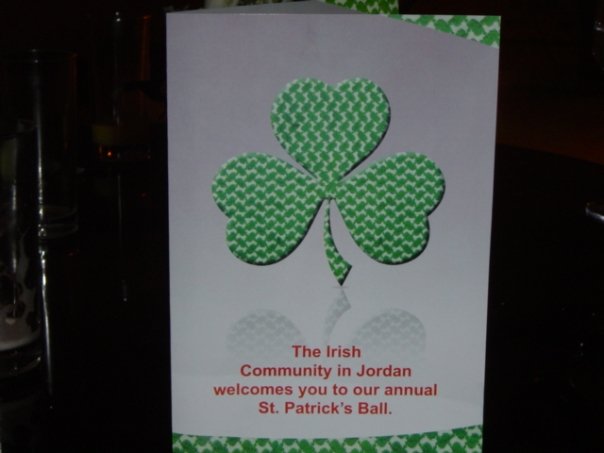 Following this, they pursued the wedding market in earnest and played nationwide extensively.
In the early part of the 'Teens" the band however played its last gig, with John and Terry unable to commit to the level required, things wound up and The Spectrums were no more.

Let Loose Band
Lenny and Aoife, (now a couple) didn't rest on their laurels and set about relaunching another band pretty much straight away. With an emphasis on the wedding scene predominantly and to a lesser extent the pub scene, they decided to step away from the 80's and pursue a more mainstream musical repertoire. Very soon, following some auditions, they met Darrin Bell (drummer) another familiar name!, Mark Shortt (Bass and trumpet) and CJ Barry (lead guitar) and very quickly Let Loose Band hit the circuit.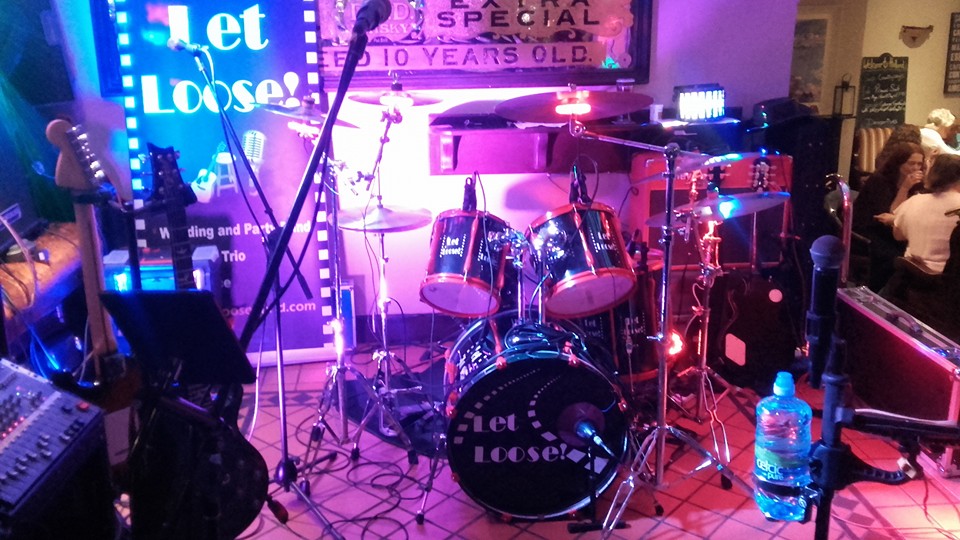 Let Loose picked up straight away at great pace and were soon busier than ever, several times a week, all year round. They brought a very high energy show and went down the wireless route, allowing them join their audiences on the dance floor. One of their proudest moments was headlining the Dublin Pride festival Main Stage.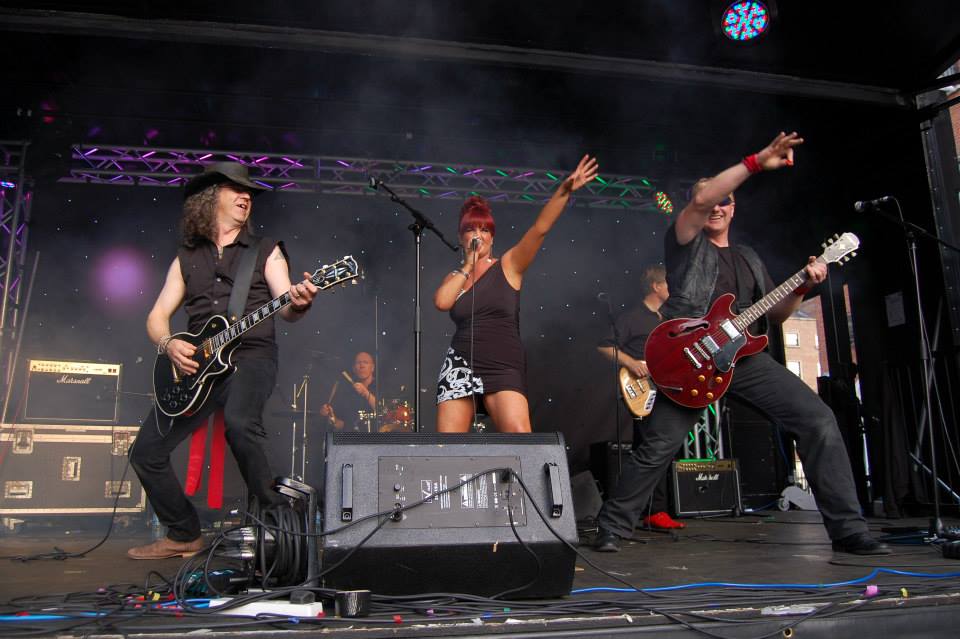 They toured Ireland extensively and enjoyed an amazing run in the wedding market for several years.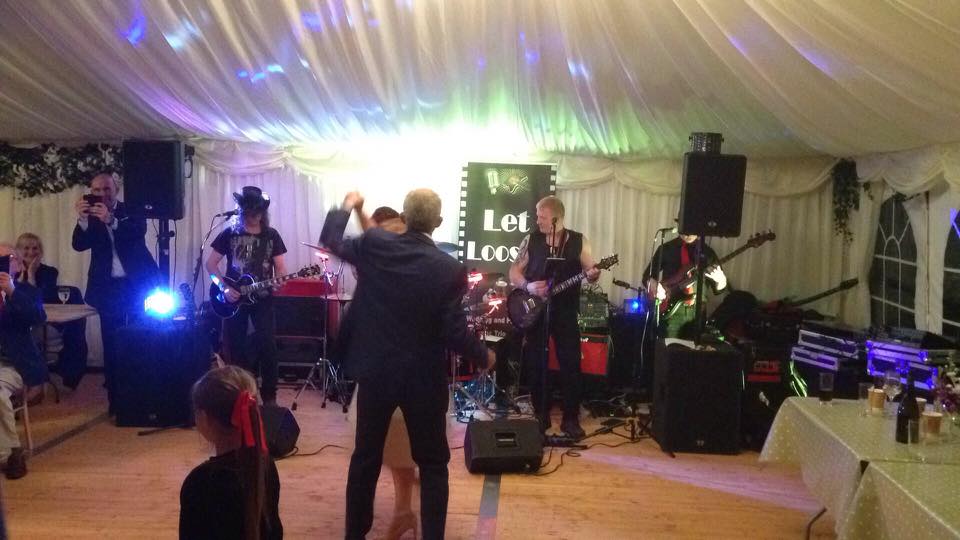 However, as all of the members had day time jobs also, the toll of an unbelievably hectic gigging schedule took its toll and in late 2015, totally burnt out, Mark felt it was time to step back, as did CJ. It was only then that Lenny and Aoife realised how exhausted they were too, and it was agreed Let Loose was to wind up. It was an amazing run but the right decision to make.

Vintage Vibes Band is Born!
After a few months of a break, it was a night of re-watching the movie The Commitments that finally made Lenny and Aoife plan to gig again. A few ideas were thrown around and the addition of brass, and a dabble into some more vintage sounds appealed to them greatly. And so the hunt began in earnest for a line up. Darrin was on board straight away, and after a break for a few years, Farid was delighted to come in also. Following some auditions , Richard Ng joined on saxophone also.
What followed for a short while was the curse of the bass player!! For the first few months the band struggled to get someone permanent and went through Oscar, Ciaran, Eugene and 2 Chris's before finally Johnny Batista joined up with the band in mid 2016. Vintage Vibes Band was born!!

From then the band have become a fore runner on the wedding scene and in the space of a few years have been nominated for and won several awards in the market.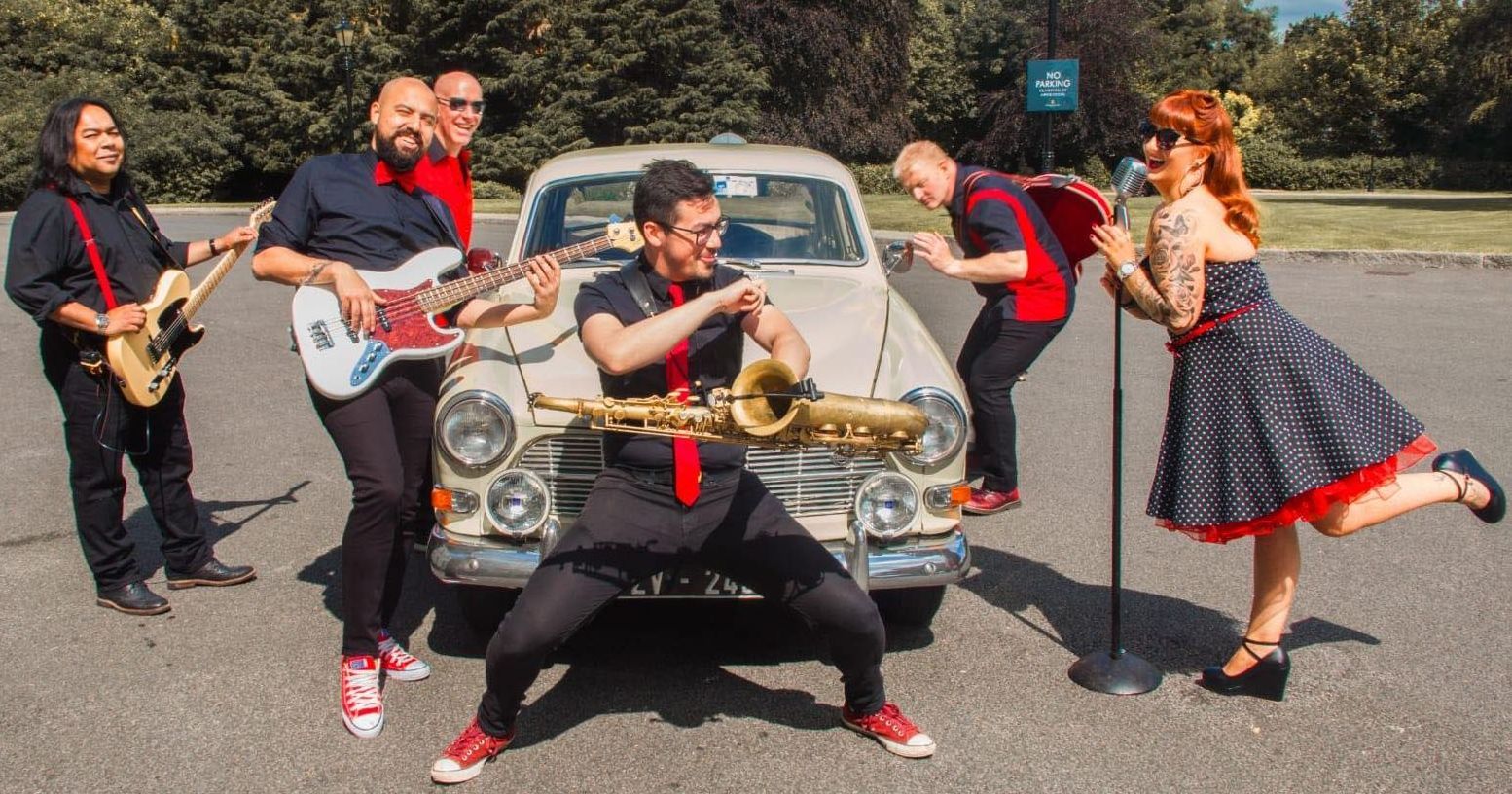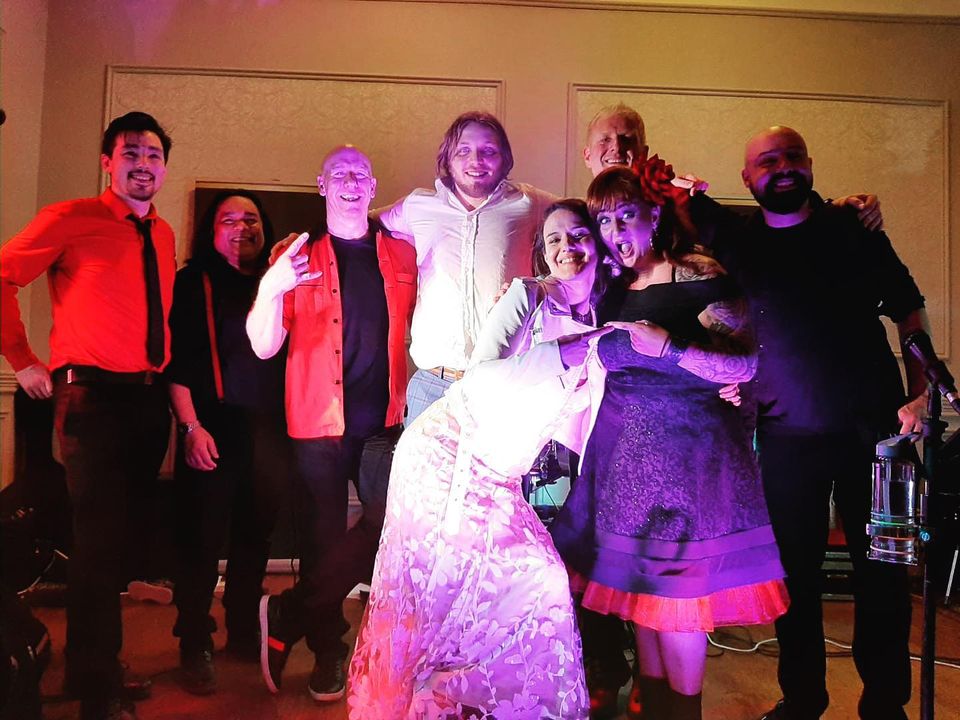 The main success in Vintage Vibes is the unbelievable chemistry and friendship within the band and hard work by all the members collectively. Energy and fun are the talking points of every performance.

Jack Of All Trades:
Apart from being the rhythm guitarist and co vocalist in Vintage Vibes, Lenny is the Jack-of-all-trades for the band. He handles most of the Tech side of the band, and is the general workhorse, lifting gear, loading vans etc. As the phrase was once heard.... "horse needed, Lenny's off sick!"
Lenny is the main point of contact for all of the correspondence and bookings, and if not playing music he'll be found liaising with venues, clients and other musicians. While keeping to a more Vintage set, the band has changed also, incorporating more modern numbers, but also with their own Vintage twist at times.
More than anything though he is happiest onstage with his band mates, and is the happiest he's ever been in a band. The friendships formed with the members, some going back years, make it all the better, and of course, when your best friend and partner is there beside you, its all the sweeter than ever!

From the early days of being a hairy wannabe rocker, Lenny has a massively diverse taste in music, from Irish trad to Tony Bennett, Swing , Rock, Soul, Motown, Disco and everything in between, and he looks forward to many more years playing along with Aoife and his best friends in Vintage Vibes!!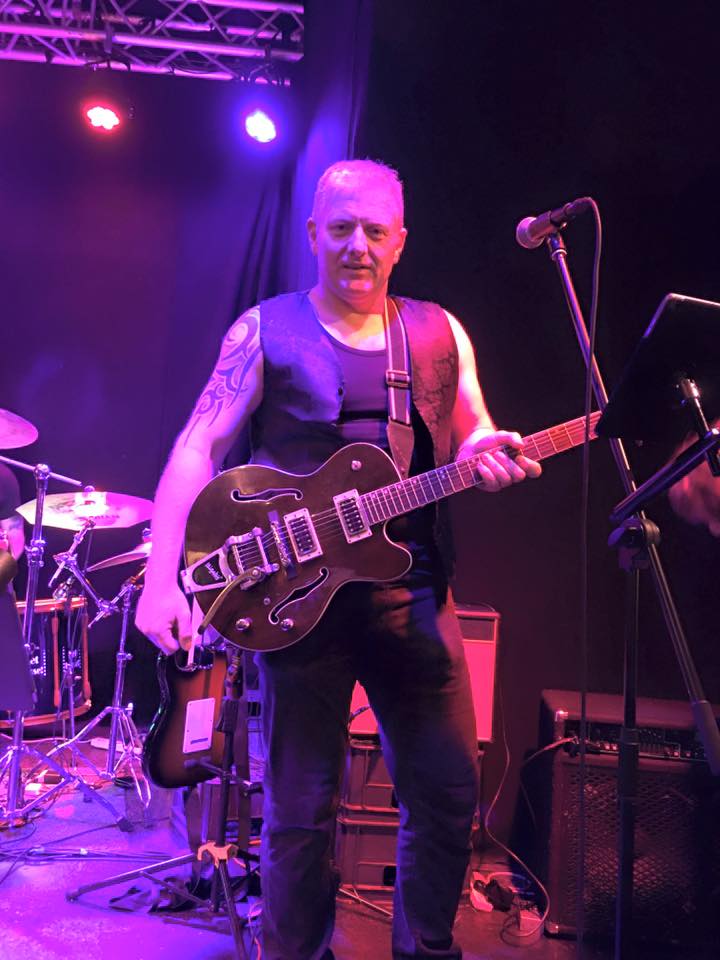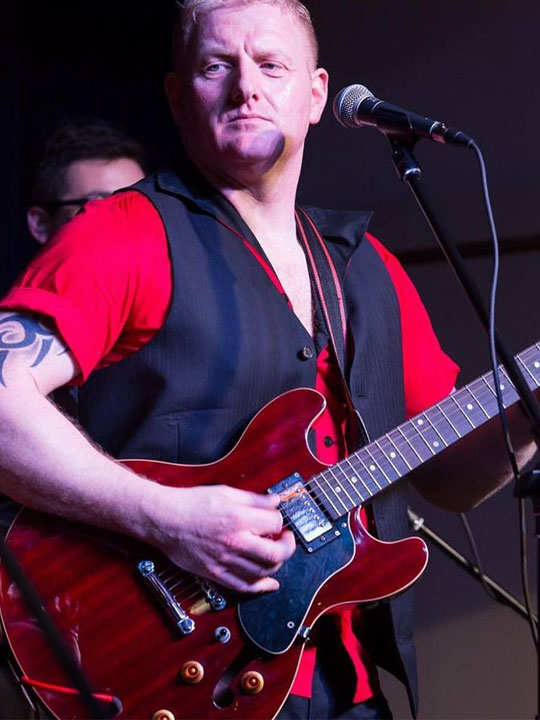 Tune in Next time for our next band member feature!!

Take Care
Aoife, Lenny, Darrin, Richard, Johnny and Farid